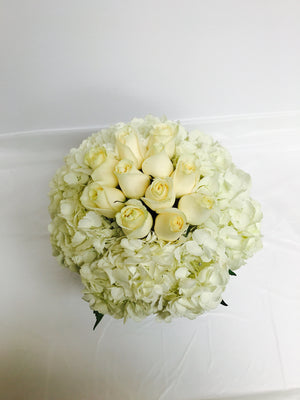 Bouquet #21
The subtle beauty of a white rose is what makes it so versatile and perfect for a variety of occasions, too. There is more to these blossoms than meets the eye, though – they are just as complex as they are enchanting. 
The white rose is one of the most traditional wedding flowers – and it makes sense. The fact that these blossoms represent purity makes them a fitting flower for celebrating a new romantic and marital bond. Additionally, white roses have been associated with young love, which also makes them perfect for a bridal bouquet. Considering the fact that white roses often convey a feeling of hope, they can symbolize other new beginnings besides marriage as well.
It's also worth noting that honor, admiration and adoration are all linked to white roses, which is why they are frequently seen at a memorial for the departed. white funerary and sympathy arragements  will often include these blossoms as a visual indication of respect, remembrance and spiritual love.