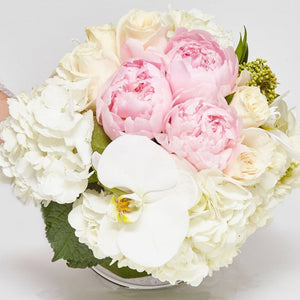 Bouquet #10
Mix of the fresh flowers :Hydrangeas white, peonies pink, roses white, skimmia, orchids.

White hydrangeas are rockstars of the shrub world. Not only do they provide midsize structure to your garden design, their beautiful blooms, comprised of multiple small flowers, provide four-season interest when you let them dry on the plant. That's always a tough choice, though, since white hydrangeas are great cut flowers and dry as beautifully in a vase indoors as they do outside.

Peonies are one of the most popular flowers. This variety is a classic favorite and usually earns a spot in many peony experts' top 10 peony picks. The peony 'Sarah Bernhardt' flowers late in the season and is often considered to be one of the last to flower. Including 'Sarah Bernhardt' peony in a perennial garden or peony bed means you'll be picking flowers until the last peony hurrah.

White Roses as a symbol for true love, an association which would later become the hallmark of the red rose. Also known as the bridal rose, the white rose is a traditional wedding flower.

 skimmia is a genus of four species of evergreen shrubs and small trees in the Rue family, Rutaceae all native to warm temperate regions of Asia.

Orchid is a plant with complex flowers that are often showy or bizarrely shaped, having a large specialized lip (labellum) and frequently a spur. Orchids occur worldwide, especially as epiphytes in tropical forests, and are valuable hothouse plants.